maniwala kayo sa kapangyarihan ng orasyon
Martes, Agosto 16, 2011


A backdrop of myths coupled with a rural religiosity, has created a rich armamentarium of indigenous therapeutic approaches, often significantly infused with elements of prayer.
The rural landscape abounds in mythological creatures - the kapre high in the tree puffing on his cigar, the tikbalang in the bamboo grove waiting to cast confusion and spell, the lady dressed in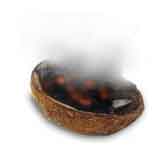 white ethereal in the shadows of night, the tiyanak preying on pregnant women, the Ilocandia "batibat" that can make your bangungut death doubly unpleasant. Then there are the "duwendes" or "lamang lupa," tiny creatures, ubiquitous in the rural terrain, habitating mounds of earth, casting spells or illnesses whenever villagers or visitors intrude or tread without permission on their earthy domains. It is not uncommon for maladies to be attributed to accidental contact or disturbance of these spirits or creatures: na-nuno, na-duwende, na-danyohan, na-asuwang. Also, there is widespread belief in karma or that illnesses are brought about by sins and distant past deeds finding them out at the end. For these illnesses, rather than orthodox healers, greater reliance is placed on the village healer or albularyo, especially those known to possess special abilities in dispensing the other treatment modalities — bulong, orasyon, tapal, lunas, and counterspells - to help counteract these spirit-induced ailments.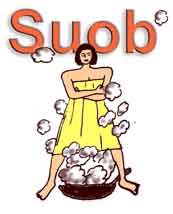 Some conditions and treatment modalities require experience and expertise. Suob is a ritual of post-partum therapy ministered by the hilot-midwife and incorporates the use of multiple modalites of herbs, massage and heat/smoke believed to facilitate healing and drive away evil spirits. Kudlit is a fringe modality that utilizes superficial razor-blade cuts to release poisons of presumed rabid or poisonous bites. For certain more complicated or serious illnesses, It is not uncommon for the healers to make use of several treatment modalities.
Magasawang Gamot is self-prescribed and pharmacy-based; devoid of pharmaceutical rationale, it continues to have widespread use for a variety of viral and febrile conditions. The procedure of "Pagtutuli" is the rural Lenten ritual of circumcision.
Indeed, Philippine alternative medicine abounds with fringe and nontraditional treatment modalities that have withstood time and controversy. Constrained by chronic economic want, many of the rural ills, aches and pains rely on their indigenous therapies that have evolved or persisted from generations of use, some becoming established into the village rituals and beliefs on health and disease.
Often, amply dispensed with dosages of prayer, the treatments are also facilitated by the faith, hope and placebo, with adequate doses of tincture of time.

---
M I S C E L L A N E O U S T H E R A P I E S
---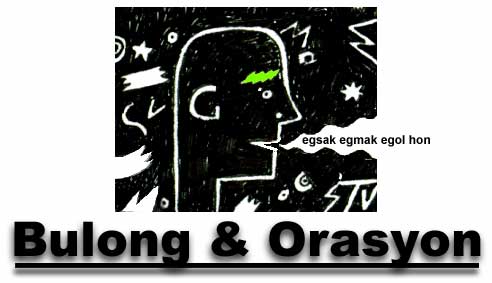 Prayer is essential and integral to rural life and its approach to health and illness. In some areas, there are prayerists who are asked to invoke on behalf of the ailing for their healing needs.
Many forms of rural alternative therapies utilize prayers in some form or another.
To the hilot or the arbularyo, this may be in the form of a written prayer,
ORASYON
or a whispered prayer,
BULONG
. A bulong is usually whispered during the course of the healing or manipulation. Or, the healer might prefer to use an ORASYON, a written prayer usually scribed on a piece of paper or cloth, preferably wet with saliva and applied prayer-side to the area of pathology (see:Rabies). Similar prayers may also be written directly on the skin while being whispered. For some gastrointestinal ailments, the orasyon may be rolled and placed in a glass of water, and the infusion given to the patient to drink.
The prayers, invariably in Latin or pig-Latin, are also often used for countering evil spirits or preventing physical harm or as an added ritual to many mundane events.
There are specializations in the albularyo system. Some may be more knowledgable or better versed in one modality than another, some more capable to dispense herbal treatments, massage (hilot), or counter spells for kulam or sorcery. And for bulongs and orasyons, its ministration is considered to be more potent and more likely to be effective if dispensed by a healer versed in that modality, especially those empowered by "anting-antings" or amulets.
However, its use isn't the sole purview of arbularyos or healers. Quite often, after achieving a level of familiarity and trust, many of the rural folk will easily admit to using these prayer-forms for day-to-day maladies such as headaches, hiccups, burns, sprains and back pain. Some refuse to share these prayers for other to use, believing it will lessen its healing potential; some frequently share them with kinship and friends. Some prayers are more favored than others, believed to have generic or universal application, not uncommonly, memorized and ready-to-use for whenever the need should arise. The others are kept in a "libreta," tucked away in some secret shoebox, and usually handed-down to a family member.
Some believe that these oraciones can paralyze an opponent (pamako), make one invisible to the enemy (tagabulag) or make one invincible to bullets or bolo cuts. It is also used for exorcism, as a love charm, and for protection from physical dangers and evil spirits.

Sometimes, orasyons written in small pieces of paper are rolled into small tight wads and placed into the cavities of dental caries.
Bulongs and orasyons are still in popular use by healers in the southen Tagalog areas.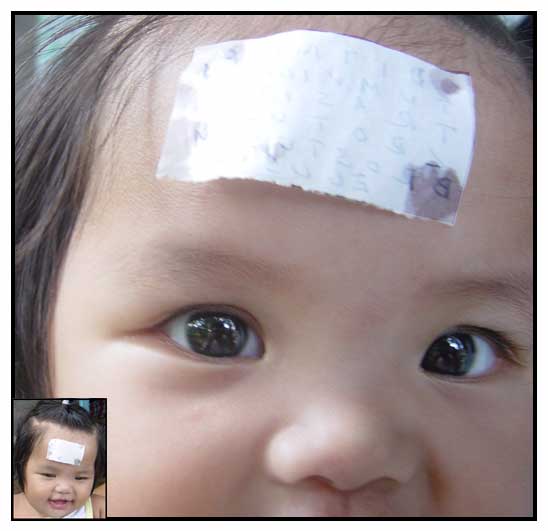 Young child with an orasyon patch on the forehead placed because of protracted hiccups. Scribbled onto the patch is a prayer in pig-latin. The user has found it to be the most effective in her armamentarium of prayers, orasyon or bulong.
DITARAC
TUMVIGATUM
TRASITAS
CROTUS
BROSTUSUM
EGOSUM
MORE BULONG AND ORASYON EXAMPLES:
TO AVOID ILLNESSES:
ESTO MIHI, UMBRACOLU, ET MEDECINAM, ET ANEMAE
.
FOR VARIOUS ILLNESSES:
ECCECRUCEM DOMINE, FUGITE PORTIS AD VERCE, VINCIT LEO DE TRIBU, JUDA DAVID - ALELUYA, ALELUYA, ALELUYA.
FOR SPRAINS:
QUEM QUAERITIS SUSUBANI, EGOSUM HOMOMAULI ANG SIRANG BUTO, CRIATUM, HOMO QUIS LOVEL, PHU, PHU, PHU.
FOR FOREIGN MATTER IN THE EYE (PUWING):
(1) RICOTITAM MASUR RISURBO (B) JESUS PERETUINO ULIMARES GIGLER YLAPUS.
FOR MOUTH SORES (APHTHOUS STOMATITIS):
(1) MAMONGLAY BARDUCAMIN YCAR BATUR CAR-CAR. (2) OH VIRGO VIRGEN MARIA OPICLUM, JESUS MARIA MAMAHEN.
FOR BACK PAIN AND SORE THROAT:
AMAM SANCTUM, AMAM TACA, AMAM SABAB.
FOR TOOTH EXTRACTIONS:
DOMINUM PAULUM, WINGIM CARLIM, HIBLIM.
FOR SPRAINS, BULONG WHILE MASSAGING:
MADMED, ACBIUS, ROUDAE.
FOR BURNS:
SALU AREPO TONAPE EROROTA.